Editor's note:  I went by to take pictures of Studebaker's to go with this article, and this was on the door. I was so shocked that I decided to write an editorial called 'Taking Action'. However, we decided to go ahead and publish the article, so we'd all know what we missed.
Original article:
I was told in response to my restaurant review for Wiggins that I'd missed Studebaker's, so I added it to my list, and last night was the time to try it out.  We were in the mood for bar-b-que and Studebaker's did not disappoint.  It was great. Bar-b-que aficionados will understand what I mean, so please explain to those around you who aren't as addicted as all of us are. Bar-b-que lovers are a particular people.  We are very picky about the style of bar-b-que (there are 5 distinct styles in the US).  We are loyal to that style, and to our favorite restaurants.  My choice is Texas bar-b-que all the way; beef, preferably brisket, and tangy.  Since moving back to south Mississippi I've had to accept that bar-b-que around here is Southeastern style; sweet with a bit of heat, and pork all the way.  That is Studebaker's dominant style, but the pitmaster, Vicky, has come up with her own rub and sauce and has managed to hit some incredible notes in taste that are not just the Southeastern style, but Texas and Kansas City (spicy rub with sweet and heat) as well.  She, of course, did not reveal all of her secrets, but she did tell us that she uses mostly pecan wood, a great taste for pork and chicken.  She smokes it to perfection for taste and tenderness.  The meat nearly falls off the bone.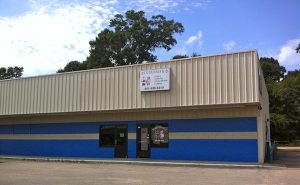 I'm not a fan of ribs, but I will be at Studebaker's. My friend, who is Texas born and raised and the pitmaster at my house, said he has never liked spare ribs, but as he ate these he realized that until now he'd just never had GOOD spare ribs. And we both got rhapsodic over the sausage; not greasy, but tender and juicy with just the right amount of heat. Again, bar-b-que aficionados understand this statement; the greatest compliment the pitmaster can get is someone eating their food and then saying, "I forgot the sauce!"  It means the food is just perfect as it comes off the smoker and does not really need sauce to make it good.  Yet, the sauce at Studebaker's is excellent; a little sweet for me, but just the right amount of heat and a perfect compliment to the smoky taste of the meat, especially the sausage.
As if all that was not enough, the owners, Rusty and Vicky, Pitmaster, Reed, were a delight to meet and talk to.  They have created an atmosphere in the restaurant that is warm and welcoming, just really good folks.  It's the kind of place I'd feel comfortable bringing friends, family, or going to alone.  They have take-out service, too.  And if you are really too tired to even go in the door, there is a pick-up window service.  Oh, the prices are really reasonable, too, and that is always a plus.  There are plates and sides to go with everything.
Once again, a Stone County restaurant did not disappoint, but it is all still pork.  If I can talk them into trying beef brisket, which I'm sure is well within Vicky's talents, I'm willing to import in some mesquite wood for that perfect Texas taste.