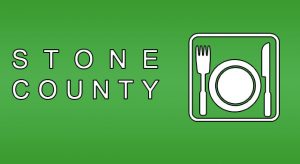 Recently I had a friend visiting from out of town.  During one of the down times of a long visit, we were looking at what to do for dinner.  I started going through our restaurant and food choices.  My first option was the Whistle Stop for fried green tomatoes. Then, because she is from New England, I suggested really good TexMex at Perico's.  Since she's been missing good Gulf shrimp, I suggested po-boys at O'Neal's.  I went on and on with her various options.  I didn't even really think about what I was saying, but it was everything from burgers to sushi, right here in Stone County.  Finally, she said that it was truly amazing how many good, local restaurants we have available to us in a small community.  I took a step back and realized she was right.  I had simply never thought about it.  I am all about local, so this really hit a note for me.
Aside from a lot of the regular big chains, we here in Stone County have so much available at our very fingertips in terms of good and affordable food; all local owners.  For starters there is the Whistle Stop.  Given the number of people that are always there when I go, and that I have actually had to stand in line and wait for a table, then I don't think I'm telling y'all anything you don't already know.  It is great.  We could never work out a good time to go to it, but we tried another restaurant that has been on my list for a while, Cotton's Grill.  What a delightful surprise!  We have eaten there a couple of times since then.  It is a good option for good home cooking.
We also made it to Perico's for TexMex.  Since I spent twenty years in Texas, so I am pretty particular about TexMex Cuisine.  Perico's never disappoints.  Oh, the proving point on whether a TexMex restaurant will be good or not is the salsa.  Theirs is excellent.  I did get my friend there for dinner one night.  She was impressed.
If you are craving something a little more exotic, then there is Yamato's for sushi.  I will admit, that one took me by surprise when it opened; sushi in Wiggins?  It is good, though, and on my list of options when cooking is not what I want to do, and I want to treat everyone to something on the exotic side.
When I am craving something from the Gulf, then it is O'Neal's all the way.  All those shrimp starved years in Texas has made me really appreciate good seafood options.  How wonderful is it that I do not have to drive all the way to the Coast to get some seafood into my hungry mouth?  McHenry is not very far down Hwy 49.
This is one that I tried when I was tired and did not want to cook at all, even though I had just bought groceries, the deli at Piggly Wiggly.  Wow!  I do miss my Texas bar-b-que, and this fits the bill.  They do a lot more than bar-b-que, too.  Who would have thought that such good food could be found in the Pig's deli?
Being gone for twenty years, I was really happy to see the old Frosty Mug was still selling burgers.  It is not quite the same as when I was in high school, but then neither am I.  They have a long menu, but if it's a chili bun you want, then there is still no better place.  Not to sell Sonic short, but the Frosty is the Frosty.
There are still several other restaurants in town that I have not tried yet, but I will.  That night with my friend we decided on TexMex. While she was visiting we also did O'Neal's and the deli at Piggly Wiggly.  I am still craving those tomatoes at the Whistle Stop.  I am so happy to know that when it is time to eat out, then I can stay right here in Stone County and be really happy with my choices.
Now, if we only had a Starbucks; not local ownership, but a good meal just requires a good cup of coffee to follow it up.