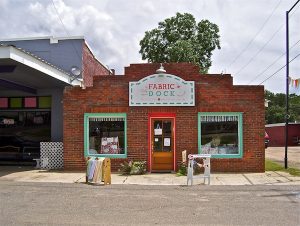 Are you looking for designer quality fabric at an excellent price? The Fabric Dock, located on S. First Street in Wiggins, offers a large selection of name brand fabric and sewing supplies to help you get started on your next project.
As you step inside the wooden door of the red brick building, be prepared to feel welcome as the co-owners Natalie Mauffray and her aunt Nancy Lee offer their assistance in helping you gather everything you need for your next dress, or quilting design. Whether you are fond of chevron, dots, floral, stripes, or solid patterns, The Fabric Dock offers the latest in designer quality quilting fabric, "Premier Prints" apparel fabric, quilting and clothing patterns, and a wide variety of thread, and embroidery machine supplies.
Oh, and another thing ladies, did I mention The Fabric Dock is "kid and husband-friendly"? To make you feel at ease while you shop, there is a children's play area, and a men's sitting area with magazines to occupy your husband while you browse the latest sales.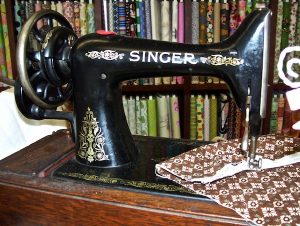 Shopping at The Fabric Dock has its perks and rewards too. Customers can participate in their $10 rewards program by collecting stamps to earn 1 free yard of fabric. For every $10 dollars spent in the store, customers earn 1 stamp. Once 10 stamps are collected, or $100 is spent, the stamps can be redeemed for 1 free yard of fabric, or saved to spend at a later time.
Do you need a personalized gift, or new bedding to decorate your son or daughter's college dorm room? The Fabric Dock also specializes in doing custom embroidery which can add the perfect touch to bridal and baby shower gifts. For college students, or for someone in need of new home or bedroom decor, they also make custom bedding and curtains. If you want to find a good use for all of your old t-shirts, you can have a t-shirt quilt made to have a more unique gift. In addition to gift items, another service they provide is long arm quilting; however, they do not perform alterations.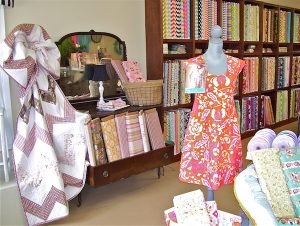 If you are looking to take up a new hobby, or advance your technique, The Fabric Dock also teaches sewing classes. You are not required to be a professional sewer to take a class, all beginners are welcome to participate. Even if you have never sewn a day in your life, it is guaranteed you will leave class feeling excited and accomplished. The sewing classes are known as "Sewing 101," and sewers can learn how to make children's clothes, dresses, handbags, and other seasonal items. Sewers are encouraged to bring incomplete projects they have been working on to class. All sewing machines are provided, but you will have to purchase and provide your own fabric. Quilting classes are also offered to those who want to learn how to make a quilt. Customers who sign up to take a class get 10% off on supplies. One Friday per month, beginning in September, The Fabric Dock will begin hosting "Girls Night Out" classes where ladies can get together, and spend the evening working on different sewing projects.
Listed below are a few upcoming classes scheduled at The Fabric Dock:
Sewing 101 — September 12, 19, 26 6:00p.m.- 9:00p.m.
Ladies Night — September 27 6:00p.m.- 10:00p.m.
Christmas Table Runner — September 21 1:00p.m. – 4:00p.m.
For more information regarding products, sales events, or sewing classes, you can contact The Fabric Dock at (601) 928-1904, or connect with them via Facebook at www.facebook.com/thefabricdock.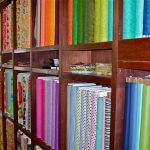 The Fabric Dock
Open Wednesday — Saturday 10:00a.m. – 5:00p.m. 213 S. First Street, Wiggins, MS 39577 (601)928-1904,
www.thefabricdock.com