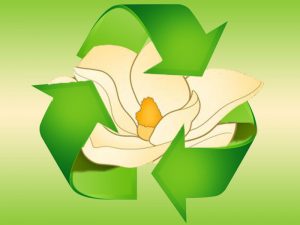 Being green isn't always easy.  Moving makes it even more complicated.  The rhythm of my life, and my recycling, got disrupted a few months back when I moved home to Stone County.  It took a while to find out what's up with recycling here, but I did find out.  I'm pleased to say that Stone County does have a recycling program, and it's a pretty good one.
For those of you who would like to be a bit more green, and are not sure how to get some recycling done, here's some information for you:
Stone County Recycling is located right off Magnolia Dr. on the north end of Wiggins on Harvey Black Rd.  Their phone number is 601-606-9270.  I talked to them, and they are really good people.
It is a drop off site, so you just take your recyclables to them.  They are open Monday through Friday from 8:00-5:00.  You just drive up, and they take it from there.
They do lots of household recyclables; all types of recyclable plastics, all types of paper (including cardboard), cans, and the types of plastic wrap that packages come in.  The only things they don't take are glass and Styrofoam.  I'm still looking for a place for those.
So, it's easy, just package up your recycling in bags, you don't even have to presort it, although I believe that is a courtesy you can pay to the folks who work there.  Then take it to Stone County Recycling.
Also, if you have rubbish, you know the types of things you get piled up in the yard, tree limbs, leaves, and such, then you can contact The Garbage and Waste Department at 601-928-9261 and they take care of that stuff.  They were also really sweet on the phone.
One last thing, and this is a really important one.  You know all those things that you collect in the house that are actually hazardous:  Stuff like paint, car oil, household batteries?  Well, there is a Hazmat Collection Day coming up soon.  It's on April 27 from 8:30-12:00 at Stone Co. Solid Waste site on W. Magnolia (where the old bus barn was).
I always feel so much better about my efforts toward the Earth when I recycle; I know the land, water, and air a little better off because I took a little extra time.  And Stone County makes it so easy for all of us to make that little extra effort.  Do it for all of us now, and for everyone later down the line.